| | |
| --- | --- |
| A Division of Travel Spirit International Pvt. Ltd.... | |
Contact Details :
Helpline IST (9.00 am to 7.00 pm)
















Our Other Travel Network Sites



About Us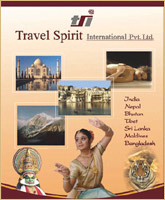 carrental-india.com is owned by Travel Spirit International Pvt. Ltd., a Government of India, Ministry of Tourism recognized, IATA accreditated Tour Operators and Travel Consultants who offer tour packages and car rental services. The company caters to the needs of discerning tourists both domestic and overseas irrespective of whether they are business traveler or a leisure tourist. Although we offer pan global tour packages, we have special offers for countries like India, Nepal, Bhutan, Tibet, Bangladesh, Sri Lanka and Maldives.

So far as our car rental services are concerned, we have a fleet of cars, coaches and mini coaches that include small luxury cars to premium category sedans and limousines. Besides this, we also have a strong back-up support along with 24 x 7 workshop and breakdown services. We have team of experienced and well-trained drivers and support staff, who offer personalized services to each and every guest.

Additionally, we also offer services that include ticketing, hotel stay and pick-up/drop at the airports and much more.

Started in the year 1987 (1963), Car Rental India has been growing steadily year by year aggregating an overall annual growth rate of 40%. The company has a spectrum of tourist services and is capable of efficiently handling all the requirements of tourists at the most reasonable rates. We offer variety of budget car rental in india, luxury car hire, luxury car rental, coach holidays in india, deluxe car hire, taxi rental services etc.

The company's dedication towards tourist services is clearly reflected - as we have bagged the National Awards for Tourism - Government of India for two consecutive years. The company has also won Performance and Foreign Exchange Earning Awards.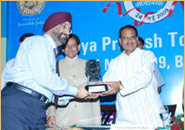 Madhya Pradesh State Tourism Corporation award for the year
2008-2009.
Our Mission
To endeavour to expand the tourism potential of India and strive to excel in providing optimum value travel services to the travellers.
Our Objective
To excel in tourism related services backed by efficient and effective planning while seeking to enlarge their scope and dimension.
Experience
You can rely on us for your visits and we rely on our experience.

Someone has said- "Attitude determines". Changed with a positive attitude thus, TSI has been moving ahead surely and steadily creating new opportunities for the traveller and earning a name for itself in the market. Beginning on a modest scale in 1987, from 380 tourists, today its activities encompass the entire spectrum of tourism operations. The company has been successful in creating a niche for itself in the market.

Right form the basic planning to execution, professionalized and yet most personalized services, from ticketing to cars & coaches, stay in hotels and receiving and seeing-off at the airports.
Pursuit of excellence - the key to success
The secret of TSI's success is a sincere and committed approach to tourist's requirements, anticipating their needs and working towards providing fuller satisfaction to this effect. Thus moving ahead. TSI has continued to expand the range of services offered- supporting them with the state-of-the-art back- up services. Its a total service- a complete satisfaction packages.
Awards & Recognitions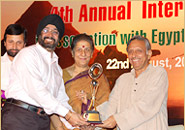 TSI has been recognized by Ministry of Tourism, Government of India. TSI has won Performance and Foreign Exchange Earning Awards from the Department of Tourism, Govt. of India for two years consecutively in the past. It was Nominated for the Best Inbound Tour Operator consecutively for the years 2003, 2004, 2005 & 2006 & for Best Outbound Tour Operators for the year 2004 for Galileo Express Travel & Tourism Award. TSI was also nominated by TravelBiz Monitor Awards 2007 for Best Inbound & Outbound Tour Operators. TSI has been awarded the "Most Innovative Tour Operator" by the Hospitality India & Explore the World Annual International Awards-2008.
National & International Memberships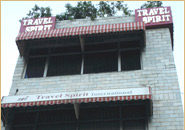 International Memberships
TSI is proud to be recognized member of prestigious national and international tourism bodies. These include
PATA - Pacific Asia Travel Association.
American Society of Travel Agents
Korean Association of Travel Agents, Korea
National Memberships
Indian association of tour operator, Delhi
Travel Agents Association of India
Federation of hotel & restaurant association of India, Delhi.
Association of Domestic Tour Operators of India.
Fully Computerized Operations
The entire operations is fully computerized facilitating instant bookings and reservations- and on the minute status reports. From transport services. Air bookings and tour planning to accounts the data is available on the tips of the finger- resulting in satisfactory service.
IATA Accreditated and Passenger Sales Agent to all International as well as Domestic Airlines.
In-house ticket stocks and "on line" with major CRS (saber) for International as well as Domestic Airlines ensuring instant reservation/confirmation etc. thus a satisfied customer.
A Fleet of Deluxe Buses, coaches and Cars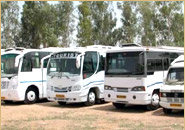 An in-house department managing a fleet of deluxe cars and coaches of various sizes takes care of group as well as affluent tourist's requirements affording a comfortable and reliable backup support.
Outbound Travel
TSI provides exciting holidays within India and all over the World and offers very well planned and thoughtful itineraries after visiting the destinations. It is a quality conscious company, provides hotel reservations all over the World and offers very high value for money. Mix and Match module concepts and Guaranteed Tour Departures enable travelers to design their own holidays. Exciting cruises and tailor made tour packages are other attractions.
The Team that Excels
No operation however well planned can be successful without the efficient human touch. TSI is fortunate to have some of the most talented and committed professionals in the field with an average experience of 15 years at senior and middle level. The personnel skills are constantly upgraded through carefully selected top training programs. No wonder we are proud recipients of complimentary comments about our team's efficiency and personalized service.
Participation in International Travel Exhibition
For the last 20 years, TSI has been participating in the most important Travel Marts & Exhibitions such as WTM (London), FITUR, ITB, PATA, ASTA, SATTE etc. These exhibitions are the platform where we meet / interact with our counterparts and clients to further improve on sales and services.
People behind TSI'S success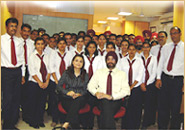 No venture can be successful without a vision and determination to excel. Behind TSI's steady growth is the focused and well planned business strategy of its dynamic leaders.
Mr. Jatinder S. Taneja, the Managing Director, who is the moving force behind the steady success of TSI. A post graduate, gifted with a strong business acumen, he has continued to keep miles ahead of the competition by emphasizing on value added services to the customer. He is currently an Executive Committee Member of PATA (Pacific Asia Travel Association). He has also been closely associated with Indian Association of Tour Operators (IATO), which is the national body of tourism in India, for improving the tourism scenario in India. First he was elected as Executive Committee Member of IATO and after 2 years, elected as Office Bearer in the Association. He was also the Chairman of Overseas Market Developing Committee of IATO.